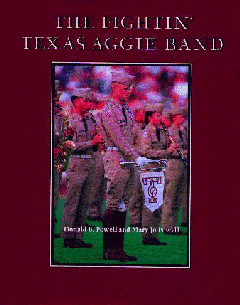 The Texas Aggie Band Book


By Donald B. Powell and Mary Jo Powell
They always win the halftime. Members of the Fightin' Texas Aggie Band, embodying the spirit, camaraderie, and excellence of the school they represent, have marched and played proudly for one hundred years. Here is the story of the music, the precision, the tradition of that exceptional band.
Illustrated with 121 black and white photographs and eight pages of color pictures of bands and band members past and present, this lively history pays tribute to the bandmasters and musicians who have made the organization the pulse of the spirit of Aggieland. Organized around the tenure of its founder, Joseph Holick, and its directors--Richard J. Dunn, E. V. Adams, Joe T. Haney, and Ray E. Toler, the men who became "The Colonel" to generations of Aggie Band members--the book marches through a century of tradition and excellence.
From the birth of the band, through the development of its marching style and its stirring, distinctive music, to its most recent triumphs of precision maneuvers and military music, the story is as bold and bright as the band itself. War years, fish bands, boots, band lyres, corps trips, parades, and other traditions known and loved by former band members and other former students of Texas A&M; University fill the book's pages. An appendix lists all of the band's seven thousand-plus present and former members.
This is a story of the determination, discipline, and enduring pride that rests deep in the heart of those young men and women who have been tough enough, proud enough, and good enough to be the Fightin' Texas Aggie Band.

---
Price: $29.00, plus $4.00 Shipping and handling

To order The Fightin' Texas Aggie Band Book, telephone,mail or fax to:

TEXAS AGGIE BAND ASSOCIATION

3707 E. 29th Street Bryan, TX. 77802

1-800-659-6841 (409) 260-5073 FAX: (409) 846-2425
---

View the photographs of the Bandmasters and Directors of The Fightin' Texas Aggie Band since it's beginning here:
Refer comments or questions to: rhay@tamos.net